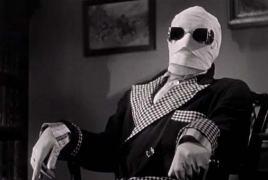 April 27, 2015 - 10:37 AMT
PanARMENIAN.Net - Sony is reportedly doing a remake of "The Invisible Man". The studio is developing a new adaptation of H.G. Wells' 1886 novel of the same name with producers Lucy Fisher and Douglas Wick who are also working on a new take on "Dr. Jekyll and Mr. Hyde", AceShowbiz reports.
According to Tracking Board, the new spin "will make the Invisible Man the villain of the film, with the audience following the hero that is tasked to hunt him down." Other details are not available, but Sony will face competition from Universal which is also rebooting the classic story.
Universal's "The Invisible Man" is planned to be part of a bigger Avengers-style universe. The project of building a shared world for the studio's Monsters properties has begun with "Dracula Untold" starring Luke Evans last year.
The other monsters in the crossover project include The Mummy, Creature from the Black Lagoon, Frankenstein (2017), The Wolfman Reboot, and Bride of Frankenstein. "The Mummy" which will be directed by Alex Kurtzman was originally set for June 24, 2016, but now has been moved to March 24, 2017. This delay forces another Universal Monster film from its initial April 21, 2017 release to March 30, 2018.