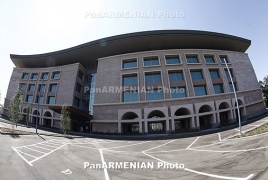 April 27, 2015 - 16:21 AMT
PanARMENIAN.Net - Microsoft Innovation Center (MIC) Acceleration Program Demo Day took place on Sunday, April 26, 2015 at the Tumo Center for Creative Technologies.
According to a press release, seven participating teams pitched and presented their products/ideas to the international IT experts, potential investors and entrepreneurs and get professional feedback at the event organized in partnership with the Tumo center. The representatives of local and international IT companies, like Uber, Facebook, Granatus Ventures etc.
The 12-week acceleration program that started in January by the Microsoft Innovation Center provided a unique opportunity to the early stage startups looking for mentorship and training to take their idea to market.
Powered by workshops and coaching from Microsoft and its curriculum partners, the program takes the startups through the idea validation process, rapid prototyping, development of a product, go-to-market techniques, and a variety of soft skills needed to succeed as a startup founder.
"More than 35 startups have applied for the program, and only 7 were selected. During these twelve weeks the startups have passed long way, they have developed the demo version of their products, some startups have already secured some part of funding,' mentioned Artashes Vardanyan, Acceleration Program Manager of Microsoft Innovation Center Armenia.
Raffi Krikorian, the Engineering Lead at Uber was among the guests. After the pitching session Raffi mentioned in his speech that the ideas presented were very innovative and could be highly demanded in international market.
"Today's Demo Day was like other Demo Days in the world in terms of the quality and innovation of ideas," he said.
The Acceleration Program is being implemented at four Microsoft Innovation Centers. The program was greatly supported by Venture Hive and MIC Global Network. Ed Steidle, MIC Global Program Manager was present at the Demo Day and noted in his speech the importance of mentorship and targeted trainings for early
Within the Acceleration program Microsoft Innovation Center Armenia has organized a number of meetings with successful entrepreneurs, potential investors and startups from the US, Australia and Armenia. Apart from the vocational, consulting, resource and network support, the teams also received work space and computers, and took part in MIC events, trainings, workshops and seminars.