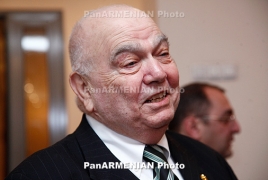 April 28, 2015 - 13:35 AMT
PanARMENIAN.Net - Armenian Educational Foundation (AEF) announced its new Richard G. Hovannisian Scholarship for Armenian Genocide Studies.
AEF has established this scholarship in honor of Professor Hovannisian in recognition of his lifelong dedication to the study of the Armenian Genocide. It is a merit based scholarship for Master and PhD students pursuing studies in higher educational institutions in the Republic of Armenia, specializing in the economic, social-demographic, cultural, legal and political aspects of denial and its accrued impact on the Armenian nation, a press release says.
The Foundation will cover the full tuition during the entire study and research, given that the proposed topic of research is acceptable to the Scholarship Board.
"The study of genocide, which is a gross violation of human rights, can help us understand the conditions under which acts of mass violence are likely to take place, suggesting ways in which genocide may be prevented," states Scholarship Committee Member, Nvard Manasian. "In the case of the Armenian Genocide there is a need to comparatively conduct interdisciplinary studies that could help to assess the magnitude of the demographic, economic, political, and cultural impact on the Armenian nation in order to identify the magnitude of loss to be recovered gradually."
The new scholarship will support the advancement of the academic debate on the possible avenues for retribution and recovery of lost human rights. Simultaneously, the scholarship would also afford the opportunity to explore the heritage rightfully belonging to an entire nation by feeding the results of this research into the state, diplomatic and public understanding and structured debate in different venues.