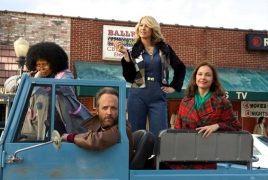 May 27, 2015 - 10:00 AMT
PanARMENIAN.Net - Picturehouse has acquired all U.S. rights to the indie movie "Big Stone Gap", which stars Ashley Judd, Patrick Wilson and Whoopi Goldberg, the company announced Tuesday, May 28, according to TheWrap.
The film hails from Altar Identity Studios and will be released in theaters nationwide on Oct. 9.
"Big Stone Gap" was written and directed by bestselling author Adriana Trigiani ("The Shoemakers Wife"), who adapted her own novel and makes her debut as a filmmaker.
John Benjamin Hickey, Jane Krakowski, Anthony La Paglia and Jenna Elfman co-star alongside Chris Sarandon, Jasmine Guy, Judith Ivey, James Hampton, Paul Wilson, Mary Pat Gleason, Dagmara Domincyzk and Mary Testa, who dramatize the story alongside local actors and performers.
Set in 1978, "Big Stone Gap" tells the story of the ever-ordinary Ave Maria Mulligan (Judd) who lives a simple life with her mother, runs the pharmacy, directs The Trail of the Lonesome Pine Outdoor Drama, and hopes that Theodore Tipton, her best friend and the high school band director will take their platonic friendship in a romantic direction. Ave Maria waits, and before she knows it, she turns 40. Now the old maid of Big Stone Gap, Ave Maria decides that happiness is for other people – that is, until a long-buried family secret throws her quiet life spectacularly off-course.
Shot entirely on location in Trigiani and Wilson's hometown in the southwest corner of Virginia (the Wilson family has had roots in Big Stone Gap for generations), the film tells the story of proud working people and their lives in a coal-mining town nestled in the Appalachian Mountains.
"We made not just a great movie, but a beautiful movie. It looks lush," said Goldberg.
"Big Stone Gap" was produced by Oscar winner Donna Gigliotti ("Shakespeare in Love") and James Spies, and executive produced by J.E.Craig and Jean Morrissey.
"Adriani is a force of nature, which her readers know and love, and Picturehouse is pleased to bring this heartwarming and romantic slice of life from 1978, to her fans around the country," said Picturehouse president Jeanne R. Berney. "This is the kind of big broad movie that will charm audiences of all ages and bring you back to a place and time we all remember fondly."
"Shot entirely on location in the rolling hills of the real Big Stone Gap, Virginia, and featuring local talent at every turn, the film is truly a love letter to small town life, working people and the triumph of love, and we are glad to have Picturehouse bring our story to audiences nationwide," added Wade Bradley, president of Altar Identity Studios.