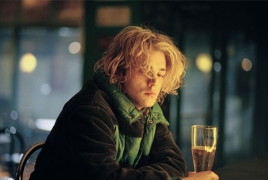 July 2, 2015 - 20:01 AMT
PanARMENIAN.Net - A new trailer for "Tom at the Farm" has arrived. The film was directed by a young Canadian filmmaker Xavier Dolan who made big waves in the past year with "Mommy", a drama which won Palme d'Or at Cannes Film Festival in 2014. "Tom at he Farm" hit festivals and other countries in 2013, but it's recently picked up for a release in the U.S., AceShowbiz reports.
Besides directing, Dolan took the lead role in the psychosexual thriller. He played the titular Tom who goes to a rural farm after the death of his lover, Guillaume (Caleb Landry Jones). He comes to the farm to attend the funeral and finds an unexpected fact about the Guillaume's family.
It turns out that Guillaume's family doesn't know anything about him including his sexual orientation and his partner. Tom keeps his identity a secret, but things take a dark turn when Guillaume's brother, Francis (Pierre-Yves Cardinal), starts to aggressively pursue his suspicions. The psychological thriller is full of deception, grief and savagery pervade.
Back in January, when asked about why the movie had not been distributed in the U.S., Dolan answered, "I just don't understand. It's such a short film. It's a psychological thriller. It's not like it's a big gay movie that no one can watch. I don't really get it."
Dolan led the cast which also included Lise Roy, Evelyne Brochu, Melodie Simard and Manuel Tadros. Dolan produced the movie alongside Charles Gillibert and Nathanael Karmitz. It is due to arrive in limited theaters in the U.S. on August 14.