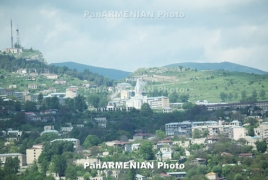 July 15, 2015 - 00:04 AMT
PanARMENIAN.Net - The Daily Beast presents an article by its Moscow-based correspondent Anna Nemtsova, who depicts the situation in Nagorno Karabakh, saying that the Armenian diaspora in the West has helped turn the country into a surprising democracy.
The article reads:
"At sunset flocks of swallows race through the pink sky over the central square of Stepanakert, a city once bombed and largely destroyed in a the post-Soviet war between Armenia and Azerbaijan. In the 21 years since the heavy fighting ended, there is still occasional shooting around the frontier with Azerbaijan, but this capital of the self-proclaimed state — this early "breakaway republic" — of Nagorno Karabakh is peaceful," the article begins.
Superficially, it resembles other quasi-nations dotting the map of the former Soviet Union: Abkhazia and South Ossetia, Transnistria and more recently the embattled self-proclaimed states of Donetsk and Luhansk in Ukraine. But where those have depended mainly on Russian backing, and critics would argue they are Russian creations, Nagorno Karabakh has found other sponsors, it says.
With some 150,000 people living here, it has support from a much greater population of ethnic Armenians around the world, and on a summer evening the veranda of the Florence Garden restaurant on the corner of the main square is full of Karabakh's visiting benefactors. The sound of clinking glasses mingles with leisurely chatting in Armenian, French, English and Russian. The tranquil scene seems almost surreal, considering Karabakh's war-torn history and its militarized present, the article notes.
To prevent traumatizing revolutions, the article says, Stepanakert made elections transparent and honest. Besides, the state is so tiny that it seems everyone knows everyone, and local officials are just too exposed to cheat the voters.
Araik Harutyunyan, the Prime Minister, told The Daily Beast that Nagorno Karabakh is different from the other internationally unrecognized states in the former Soviet Union. If Abkhazia, Transnistria, South Ossetia and the recently broken away and still fighting Donetsk and Luhansk republics embraced opaque authoritarian governments, Nagorno Karabakh demonstrated that with transparent and democratic presidential elections it could beat corruption and organized crime successfully.
One could leave a purse on a bench in the park and find it the next morning, locals told us. "Maybe we managed to cure the typical post-Soviet diseases because we are so isolated," Harutyunyan said in a recent interview, then thought for a moment and conceded with a smile: "We are intolerant toward gays."
Democracy is not the only goal for Nagorno Karabakh. Very soon, Harutyunyan promised, Karabakh would turn into a black caviar heaven, to demonstrate to Azerbaijan that they not only despise dictatorship, they can also grow rich: "In five years, our Golden Fish will produce and export tons of black caviar," Harutyunyan said. Last year, Nagorno Karabakh founded the Golden Fish sturgeon farm thanks to a Swiss-Armenian investor, Vardan Semakesh, who was also the largest investor in the republic's hydroelectric power plant.