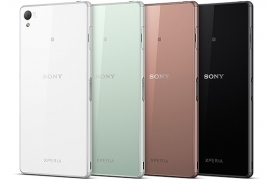 September 12, 2015 - 12:38 AMT
PanARMENIAN.Net - Sony Mobile has made a hugely controversial change to its advice around Xperia waterproof devices. Despite most recent Sony Xperia waterproof devices achieving an Ingress Protection rating of IP68 for water resistance, the highest possible, Sony now says that they should not be used underwater, Xperia Blog reports.
According to Sony Mobile's support page on water and dust protection, the company's new policy says: "Remember not to use the device underwater" and "The IP rating of your device was achieved in laboratory conditions in standby mode, so you should not use the device underwater, such as taking pictures."
A device with an IP68 rating is tested with continuous immersion in fresh water to depths of 1.5m for up to 30 minutes. Sony's new language on the waterproofing abilities of its Xperia devices suggest that despite this IP68 certification, Sony is not confident in how you may use the phone, potentially causing water damage and thus having to repair the phone under warranty.
"Sony devices that are tested for their waterproof abilities are placed gently inside a container filled with tap water and lowered to a depth of 1.5 meters. After 30 minutes in the container, the device is gently taken out and its functions and features are tested."
Sony says that the handsets were not tested for the kind of rigor of a swimming pool, for example, where the Xperia device is potentially being splashed around at fast speed. A comment from a Sony Mobile support rep makes a similar point: "Moving or operating the device while it is submerged is not tested during the laboratory tests. There are also many environmental factors which we could not assess (e.g. water movement or water pressure changes during the movement), if a device is used underwater. Therefore we recommend not submerge our Xperia Z5 in water."
These new disclaimers first appeared for the Xperia Z3+/Z4 back in May 2015. At the time, the new wording surprised us, but we thought it might only be targeted for that handset for some reason. However, when the same disclaimers were used with the Xperia Z5 launch it became clear that Sony is issuing new limitations on its waterproof devices.