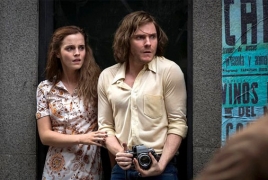 September 15, 2015 - 11:44 AMT
PanARMENIAN.Net - The first trailer for Florian Gallenberger's cult thriller "Colonia" has arrived. Emma Watson stars as a woman named Lena who infiltrates a cult run by an ex-Nazi in order to save his husband Daniel (Daniel Bruhl). "I joined up to find you," she whispers to Daniel in the trailer, AceShowbiz reprots.
Lena and Daniel are young German couple who are trapped in Chile during a military Coup led by General Augusto Pinochet. When Pinochet's secret police abduct Daniel and send him to a cult known as Colonia Dignidad, Lena decides to join the cult to find and save his husband who is tortured.
The film seems to be a little intense and intriguing, especially when it comes to the idea of an extraordinary genderbent in the story. It reconstructs "man save his wife" storyline and is inspired by true events.
"Based on real people, places, and events, and shot through with brilliantly crafted storytelling, 'Colonia' is an unforgettable tale of love and captivity set during one of the Cold War's darkest chapters," so reads the description in TIFF's official site.
"Colonia" was premiered at the Toronto International Film Festival. It doesn't have a U.S. release date just yet, but is expected to arrive in 2016. Watson and Bruhl are joined by the likes of Mikael Nyqvist, Richenda Carey, Vicky Krieps, Jeanne Werner, Julian Ovenden, Martin Wuttke and Nicolas Barsoff in the cast.