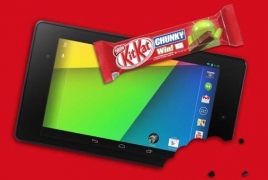 October 3, 2015 - 11:35 AMT
PanARMENIAN.Net - Android phone users are once again vulnerable to hackers through a new virus, Digital Spy reports.
Earlier this year, the Stagefright bug put phones at risk by sending MMS messages, but this new version allows hackers to take over a smartphone via an MP3 or MP4 video.
Mark James, security specialist at ESET, told The Guardian: "Visiting a website and previewing an infected song or video file could enable the attacker to gain access to your mobile device and run remote code, in theory allowing them full access to your device enabling them to do whatever they wish, including installing other malware, or just harvesting your data for use in identity theft."
The security holes lie within the media processing systems of Android, which when combined with bugged MP3 audio files or MP4 videos, allows hackers to access the rest of the smartphone.
"The first version of Stagefright required some information, namely your mobile number to be able to send the text message to your device," James explained.
"This new version does not even need to know any of your information to be successful. This, in theory, enables a much wider audience and indeed could enable access to over 1 billion Android devices."
Back in August, Samsung, LG and Google announced the "biggest ever security update" in a battle against the first Stagefright bug.
Android users can check whether they are protected against the vulnerability by downloading the Stagefright Detector App from Google Play.