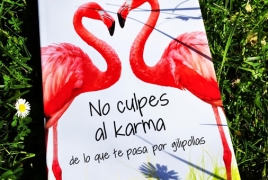 October 19, 2015 - 15:01 AMT
PanARMENIAN.Net - Clara Lago, the femme lead of B.O. juggernaut "Spanish Affair" which grossed €55.1 million ($62.8 million) in Spain last year, will star in "No culpes al karma por lo que te pasa por gilipollas," produced by Antonio Asensio's Zeta Cinema, a film which is shaping up as one of Spain's big comedy bets of 2016, accoridng to Variety.
"Karma" reteams director Maria Ripoll ("Tortilla Soup," "Traces of Sandalwood"), Zeta Cinema and Sony Pictures Releasing, which will distribute in Spain, all involved in romcom "Now or Never" (pictured in a production still) co-starring Dani Rovira, who starred opposite Lago in "Spanish Affair" and one of Spain's biggest hits of this year.
A romcom, based on the Planeta-published best-selling novel of the title by Laura Norton, which sold 100,000 copies in Spain, and written by Carlos Montero ("Combustion") and Breixo Corral ("Spy Time," "Three Many Weddings") "Karma" is coming together as local production builds across much of the international world and comedy, sometimes with international potential, is leading much of that charge.
In Europe last year, per the European Audiovisual Observatory, market share for European films in the E.U. leapt from 26.2% to 33.4%, the highest level since the Observatory started to calculate European market share in 1996. Put that down not only to huge sums for Luc Besson's "Lucy," (15.2 million tix sales in in Europe) but two comedies, France's social satire "Bad Serial Weddings" (17.0 million admissions) and "Spanish Affair" (9.3 million, outselling "Paddington" in Europe), a culture clash romcom.
In 2015, Zeta Cinema has produced two of its five highest-grossing Spanish releases, through Oct. 11. Both are comedies: Romcom "Now or Never" (€8.4 million: $9.6 million) and secret agent spoof "Spy Time" (€2.6 million: $3.0 million), a kind of "True Lies" for Spain. "Perdiendo el Norte," another romcom, from Producciones Aparte, Telefonica Studios and Atresmedia Cine and set in Spain's emigrant community in Germany, punched €10.4 million ($11.9 million).
"'Now or Never,' 'Perdiendo el Norte' or of course 'Spanish Affair' are really grounded films with roots and seem to be about Spanish people in Spanish towns and people can relate with these movies," said Zeta Cinema producer Francisco Ramos, one of Spain's most consistently successful producers.
"And you can see this with other European films working in Europe," he added: Most of the successful comedies that work in the U.S. have stars who are stand-up comedians are come from sitcoms, and only work in English-language markets.
"No culpes al karma" – Norton's novel at least – turns on a young woman struggling with the business she's opened, her parents' divorce, a boyfriend she hasn't seen in a year, and her sister's marriage to a guy she carried a candle for when they went to school together.
The film is localized, but not local, Ramos argued. "Karma is a romantic comedy about a girl who has to deal with falling in and out of love, relating to her family. Karma could happen in Madrid, Barcelona, or France."
Produced by Zeta Cinema, "Karma," which will go into production in March 2016, is backed by Spanish paybox Canal Plus, pubcaster TVE, Catalan regional state TV TV3 and Sony channel AXN, a powerful combo.
"European films are also becoming more ambitious," said Ramos. Spain is no exception. Backed by Telecinco Cinema or Atresmedia Cine, the production/acquisition arms of Spain's biggest two free-to-air-broadcasters, "now, 10 Spanish movies are released at over 200 screens when even five years ago, the number was one or two a year," Ramos said. "The middle-class is dead," he sentenced.
"Hollywood studios realize that if the domestic market is going to grow, it will be because of domestic production in Europe, which is why they're investing in it," Ramos said.
Zeta also pursues film-by-film production alliances with other top producers in Spain. It is in post, for example, Spanish espionage thriller "El hombre de las mil caras." A Warner Bros. Entertainment release in Spain, the Spanish skullduggery imbroglio marks Alberto Rodriguez's follow-up to noirish serial killer thriller "Marshland. A jury prize and best actor (Gutierrez) at last September's San Sebastian, "Marshland" swept this year's Goya Awards, was a Spanish box office hit €7.5 million ($8.25 million) for Warner Bros. and has sold to every major territory abroad. Non-principal-photography in Singapore and Geneva will shoot next week and the week after. Release is set for fall 2016.
Directed by Oskar Santos, and co-starring Elena Anaya ("The Skin I Live In") "Zipe y Zape y la isla del capitan," is also in post. A follow-up to "Zip and Zap and the Marble Gang," which played Sundance and Toronto, the new higher-end live action family adventure movie is produced with Zeta Cinema by Fernando Bovaira and Simon de Santiago's Mod Producciones, producers of Alejandro Gonzalez Inarritu's "Biutiful" and Alejandro Amenabar's "Agora" and "Regression."
"Mil caras" is produced with Atresmedia Cine, José Antonio Félez's Atipica and Gervasio Iglesia's Sacromonte, Rodriguez's longterm producers.
"We are very, very happy with our association with Jose Antonio Felez and he's done an excellent job producing the movie," Ramos said.
"Fernando Bovaira and Simon de Santiago are friends, very serious producers with a fantastic track record," he added.
"Being a hands on producer myself, I can be very respectful of the other producers. Interference doesn't make movies better. When a director and producer work well, there's nothing you can bring into the movie but respect."