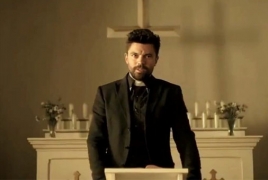 October 31, 2015 - 15:49 AMT
PanARMENIAN.Net - The first footage from Seth Rogen's "Preacher" has been released by AMC. After flashes of various scenes, the video shows Dominic Cooper as the titular character, Jesse Custer, ready to give his speech inside what seems to be a church. The full trailer will premiere during "The Walking Dead" on November 1, AceShowbiz reports.
The show follows "a tough Texas preacher who has lost his faith, has learned that God has left Heaven and abandoned His responsibilities. He finds himself the only person capable of tracking God down, demanding answers, and making Him answer for His dereliction of duty."
Ruth Negga is cast as Tulip O'Hare, Jesse's former girlfriend and a friendly vampire who will accompany him on his journey. Lucy Griffiths plays Emily Woodrow, a church organist and Jesse's loyal right hand, Joseph Gilgun stars as Irish vampire Cassidy, and Ian Colletti stars as Eugene Root a.k.a. Arseface.