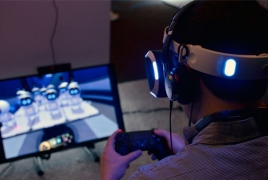 November 6, 2015 - 12:32 AMT
PanARMENIAN.Net - Sony unveiled a brief video overview of PSVR's features, Digital Spy reports.
"Are you left wondering just what the hell the PlayStation VR headset actually does?
All of these fawning pieces about how great an experience it is and how it will change gaming and everything, but there really isn't much about the basics.
Well, Sony has you covered with this brief video overview of PSVR's core features.
There's a 5.7" OLED screen outputting at a (combined) 1080p resolution, and it all runs at a nice 120hz refresh rate - which likely equates to 60hz per eyeball.
And now you know, we can all get back to telling you how much fun VR is and how it could well be a game-changer," Digital Spy said.