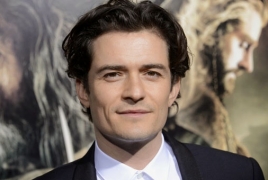 November 11, 2015 - 11:56 AMT
PanARMENIAN.Net - Orlando Bloom joins indie British movie "Romans" as a man who was abused by a priest when he was a child. Ludwig Shammasian and Paul Shammasian, known jointly as The Shamassian Brothers, will direct the film from a script by BAFTA-winning writer Geoff Thompson, AceShowbiz reports.
Thompson wrote the film based on his 2008 short "Romans 12:20" and real-life events. Bloom's Malky is a man still trying to come to terms with crippling insecurity resulting from childhood sexual abuse at the hands of a trusted and idolized priest.
The narrative will see the combination of the abuse, the withdrawal of his mother's love and abandonment of God which set Malky's life on a twisted trajectory of violent employment, serial self-abuse and psychotic sexual jealousy. Malky must confront the demons that have been haunting him for 20 years and make the decision to forgive his abuser despite aching for violent revenge.
" 'Romans' is an incredible script. The dialogue is brilliant and believable; the reversals and surprises are well placed and powerful. The characters and situations are vividly drawn," said producer Sheetal Vinod Talwar. "Orlando was the perfect choice for Malky and will take audiences on a raw and harrowing voyage through the inner human psyche. With the Shamassian Brothers at the helm, it's going to be a beautiful picture."
Fellow producer Jasper Graham added, "This project has a powerful message that can't be ignored and we hope to give a fresh perspective on a sensitive, topical issue."
Principal photography will start November 16 in West London. No other cast have been announced.