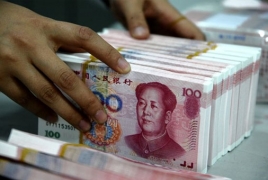 November 30, 2015 - 11:44 AMT
PanARMENIAN.Net - The International Monetary Fund (IMF) is expected to announce on Monday, November 30 that China's currency, the yuan, will join the fund's group of international reserve currencies, according to BBC News.
Just the U.S. dollar, the euro, Japan's yen and the British pound are currently part of this select band.
Earlier this month, IMF head Christine Lagarde backed the yuan's inclusion. If the decision is made, the yuan is likely to join the basket next year, experts said.
China is the world's second largest economy behind the U.S., and asked for its currency to become a reserve currency last year.
Concerns about Beijing keeping the yuan artificially low to help exporters is one reason why the currency has previously failed to meet the criteria for reserve currencies set out by the IMF.
However, Chinese officials have a made a concerted effort to build support for the yuan's inclusion, and a recent IMF staff report endorsed such a move.
Initially, the currency's inclusion would be largely a symbolic gesture, analysts said.