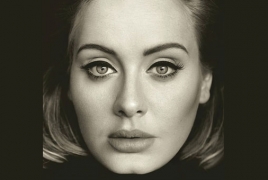 November 30, 2015 - 12:45 AMT
PanARMENIAN.Net - As expected, Adele's "25" says hello to the No. 1 spot of Billboard 200 with phenomenal first-week sales. As AceShowbiz reports citing Nielsen Music, the British singer's comeback project collects 3.48 million equivalent units in its first week. That figure includes 3.38 million in pure album sales, the biggest sales week for an album since Nielsen began powering the chart in 1991.
With that number, "25" immediately shatters Justin Bieber's record which he set last week when his "Purpose" debuted with 649,000 units. Adele's new studio installment also easily breaks the best sales week record NSYNC has held for 15 years since their "No Strings Attached" arrived with 2.4 million copies back in 2000.
This is Adele's second No. 1 album on Billboard 200. She previously ruled the chart with 2011's "21", which had 24 nonconsecutive weeks at the top slot and this week returns to the top 10 for the first time in more than two years. It's now spending its 82nd week in the region at No. 9, rising from last week's No. 25, with 46,000 units. If that's not enough Adele for you, her first offering "19" is sitting at No. 20 with 27,000 units.
Back to this week's Billboard 200, Bieber's "Purpose" falls one rung to No. 2 with 290,000 units in its second week. One Direction's "Made in the A.M.", which was released on the same day as the Biebs' latest LP, slips to No. 3 with 108,000 units.
The next album to debut in the top 10 is Jadakiss' first studio installment in more than six years, "Top 5 Dead or Alive", which opens at No. 4 with 66,000 units. Closing out the top 5 is The Weeknd's "Beauty Behind the Madness" that jumps from last week's No. 8 with 65,000.
As everyone prepares for Christmas, Pentatonix's "That's Christmas to Me" re-enters the top 10, landing at No. 6 with 61,000. Chris Stapleton's "Traveller" bows at No. 7 with 58,000. Another new title, Enya's "Dark Sky Island", debuts at No. 8 with 48,000. Fetty Wap's self-titled set claims the No. 10 slot with another 38,000 units.
"25" - Adele (3,480,000) "Purpose" - Justin Bieber (290,000) "Made in the A.M." - One Direction (108,000) "Top 5 Dead or Alive" - Jadakiss (66,000) "Beauty Behind the Madness" - The Weeknd (65,000) "That's Christmas to Me" - Pentatonix (61,000) "Traveller" - Chris Stapleton (58,000) "Dark Sky Island" - Enya (48,000) "21" - Adele (46,000) "Fetty Wap" - Fetty Wap (38,000)