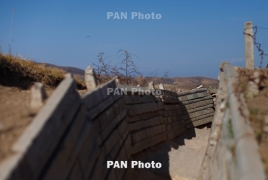 December 5, 2015 - 15:36 AMT
PanARMENIAN.Net - Azerbaijani media outlets spread Saturday, December 5, misinformation, claiming that Azeri troops have shelled the Armenian positions, causing major damages.
The records also claimed Karabakh Defense Army Colonel Jalal Harutyunyan was killed in the shelling.
In a conversation with Aysor.am, Karabakh Defense Army spokesman Senor Hasratyan refuted the news.
"I advise those wanting to have Jalal Harutyunyan killed to watch Artsakh Public TV tonight: the Colonel will speak on live TV," Hasratyan said.
According to Karabakh Defense Ministry, 600 ceasefire violations by Azerbaijani armed forces were registered On November 29-December 5, with over 6000 shots fired from various caliber artillery weapons, 60-, 82-mm mortars, RPG-7, BG-15 Mukha and AGS-17 grenade launchers, as well as Turkish-made TR-107 rocket launchers.
Karabakh Defense Ministry said Azerbaijan has made several infiltration attempts throughout the week, which were successfully prevented by the Armenian troops.
"It is noteworthy that the Azerbaijani propaganda, in an attempt to conceal its own losses and boost the spirit of its demoralized troops, published "their triumphant actions," also claiming that Karabakh Defense Army has suffered numerous losses, including Colonel Jalal Harutyunyan," the Ministry statement reads.
Harutyunyan's comments on the misinformation will be presented later.