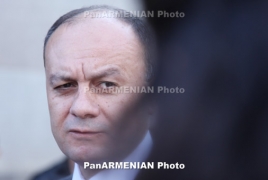 December 9, 2015 - 16:24 AMT
PanARMENIAN.Net - Defense Minister Seyran Ohanyan had a phone call Wednesday, December 9, with Ambassador Andrzej Kasprzyk, the Personal Representative of the OSCE Chairperson-in-Office.
During the conversation, the parties discussed the current situation on the Armenia-Azerbaijan border and the contact line between Nagorno Karabakh and Azerbaijan.
The Minister briefed the ambassador on Azerbaijan's provocations during the constitutional referendum in Armenia and the following days, as well as Armenia's retaliation. In this context, Ohanyan expressed concern over the rival's continuous destabilization of situation, stressing that Azerbaijan used 125-mm tank cannons, which may lead to further escalation.
In view of keeping Azerbaijan within the logic of negotiation process, the minister also stressed the need for the OSCE Minsk Group's targeted reaction.
Ambassador Kasprzyk, in turn, expressed concern over the situation and pledged to take corresponding measures.
Azerbaijan used a tank for the first time to shell Karabakh positions amid ongoing border tensions.
According to the Karabakh Defense Ministry, 180 ceasefire violations by Azerbaijani armed forces were registered on December 8-9, with over 1500 shots fired from various caliber artillery weapons, 60-, 82-, 120-mm mortars, RPG-7 and AGS-17 grenade launchers, as well as TR-107 rocket launchers.
On December 8, at around 9:10 pm, Karabakh soldier Gagik Avanesyan (aged 24) was lethally wounded in the rival's sniper attack.
In investigation into the details of the incident is underway.
Karabakh Defense Ministry vowed retaliation, pledging severe and irreversible consequences.