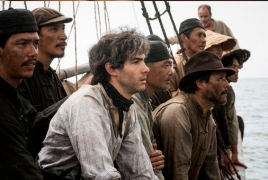 December 9, 2015 - 16:38 AMT
PanARMENIAN.Net - Speaking to a packed auditorium during a 90-minute masterclass at the 15th Marrakech Film Festival, 42-year old German-Turkish helmer Fatih Akin provided fascinating insights into his inspirations and working methods, Variety reports.
One of the main focuses during the masterclass was Akin's 2014 feature, "The Cut", about the 1915 Armenian Genocide in Ottoman Turkey, which he had wanted to direct for many years because of his own Turkish origins and because this is a taboo subject in Turkey.
He explained that he tried to make a film that would be appealing to both Armenians and Turks but ended up receiving severe criticism from both sides.
"I used to think that a film can change the world, just like rock n'roll has changed the world. But I now realize that one film can't do that. The most difficult thing for 'The Cut' was its reception. I received criticism from all over the world. Both sides beat the shit out of me. Which I suppose means it has something, right?"
Akin lensed "The Cut" in the style of a John Ford western – with moody clouds against the blue sky – and says that he is increasingly interested in the psychology of colors, having read widely on the subject, including writings by Goethe, and increasingly watches Asian cinema, precisely due to their use of colors.
The helmer says that growing up in Germany made him want to address the Armenian Genocide, in part because of the manner in which the Holocaust is a deep part of German culture, whereas the Armenian Genocide continues to be taboo.
"As I grew up, I used to think that the Holocaust had nothing to do with me or my parents, because I wasn't born at the time and they didn't live in Germany. But while making 'The Cut,' I realized that I had equal responsibility for both genocides. Also for the genocides in Laos, in Algeria and in North and South America. Whenever one group of human beings gangs up to kill another group."
Although "The Cut" received a frosty critical reaction, especially in Turkey, Akin says that he views the Turkish audience as his brothers and sisters. "They are my audience. When you love somebody, you also have to have space to criticize them. That's what my critics don't understand. And I've given up trying to make them understand."