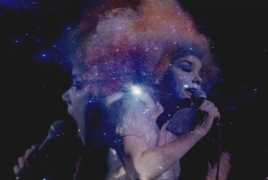 December 9, 2015 - 17:12 AMT
PanARMENIAN.Net - Never one to do things that are either easy, average or boring, Iceland's finest experimental artist, Bjork, has produced yet another stunningly bizarre and oddly beautiful video for her latest single, 'Mouth Mantra', Gigwise said.
Taken from the 2015 album Vulnicura, the video for the new single has been filmed inside the singer's own mouth, with parts of her vocal apparatus pulsating in time with the skittish electronic beats of 'Mouth Mantra'.
The video was a technical challenge that has been met most admirably by director Jesse Kanda, using mouth models, animatronics and Sony Action/F55 cameras in order to capture the extremely intimate inner workings of the singer's mouth, tongue and throat.
Below is the 2D version of the video from YouTube, but for those that want to go deeper, there's a special 3D version that requires a Virtual Reality headset and Bjork's soon-to-be-released VR app – there will more news to come on this mind-bending new version.
Speaking about the ideas behind the video, Bjork said:
"I am so extremely grateful to Jesse to be up for going on this journey… it was brave of him to take it on and I feel spoiled having witnessed him grow, making hi-tech mouth models and inventing cameras, all to match a little therapeutic song about the throat. His dedication and devotion is overwhelming!
"I am especially grateful for those sassy dancefloor moments we managed to squeeze in there as well – true magic!"