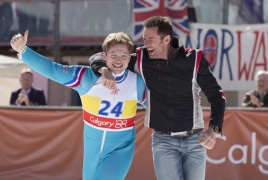 December 15, 2015 - 17:08 AMT
PanARMENIAN.Net - The first official photos of "Eddie the Eagle" have surfaced online. Making their way out via USA Today, the images feature Taron Egerton as leading character Michael Edward and Hugh Jackman as his trainer Chuck Berghorn, AceShowbiz reports.
Most of the photos show Berghorn's efforts to help Edward become the winner of the 1988 Winter Olympics. One of the photos sees the two in front of a mock-up arena with Berghorn seemingly explaining some strategies to Edward. Meanwhile, some of the pictures see the duo celebrating a victory.
Better known as Eddie the Eagle, Edward is the first Olympic ski jumper who represented Great Britain. He was a lovalble figure although his farsightedness forced him to wear glasses under his goggles. Edward placed last in the 70m and 90m ski-jumping events, but he was hailed as a heroic failure and became a well-known athlete.
After shooting some scenes in heights, Jackman, who plays the coach of the beloved figure, said he was even more impressed with what Edward had done. "I am not scared of heights at all. But I was scared up there," he said. "That jump is so steep and it's pure ice."
The actor also praised the makeup crew after he saw Egerton's transformation to portray Edward. "My jaw was on the ground," Jackman shared. "There was a photo of Taron next to the real Eddie the Eagle in the makeup trailer and I would stare at it going, 'Which one is Taron?' It was phenomenal."
The film also stars Christopher Walken, Rune Temte, Tim McInnerny, Jo Hartley, Edvin Endre and Lasco Atkins. Directed by Dexter Fletcher, the biopic will arrive in the U.S. on February 26, 2016.