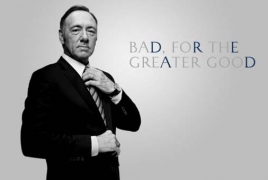 December 16, 2015 - 11:09 AMT
PanARMENIAN.Net - Frank Underwood stole the show during the GOP debate on CNN Tuesday night, December 15 by dropping a message during a commercial break. In a video which serves as the first teaser of "House of Cards" season 4, the ambitious politician played by Kevin Spacey appears to approve the message for his own campaign (#FU2016).
"America, I'm only getting started," he says in the 30-second spot, which is positioned as a re-election campaign ad for the central character. It also includes a link to Underwood's campaign website, fu2016.com.
Along with the teaser, Netflix has announced a premiere date for the new season. The critically-acclaimed drama is set to return on March 4, AceShowbiz reports.
Underwood achieved his goal to be president of the United States after the previous POTUS resigned at the end of season 2. In season 3, his marriage began to fall apart as he began to focus on his re-election campaign.
Robin Wright will return as First Lady Claire. Neve Campbell is added to the cast for season 4 as a series regular, but her role is still kept under wraps.