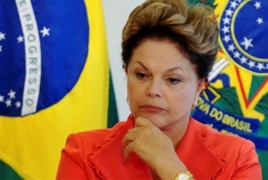 December 17, 2015 - 09:08 AMT
PanARMENIAN.Net - Brazil's Supreme Court said it delayed until Thursday, December 17 the next step in a case that could lead President Dilma Rousseff's impeachment, AFP reports.
The decision, originally scheduled for Wednesday, was postponed after the court ran out of time. "Tomorrow we'll stay as long as necessary," said Chief Justice Ricardo Lewandowski.
The march towards the unpopular president's possible ouster was stalled by Rousseff's allies in Congress, who say that opposition legislators violated the constitution in their rush towards impeachment.
They claim that the commission looking into impeachment illegally insisted on secret votes while picking its members, and that it is stacked with Rousseff opponents.
If the high court agrees, it could tell Congress to re-start the case against Rousseff.
The president stands accused of budgeting maneuvers that she says were long accepted practices by previous governments, but her opponents say is illegal.
On December 8 the Supreme Court ordered the commission looking into Rousseff's impeachment case to freeze their work until the challenge was resolved.
The speaker of the lower house, Eduardo Cunha from the PMDB's openly anti-Rousseff wing, oversaw the controversial session to form the commission and is the architect of the impeachment drive.
However Cunha himself has been charged with taking millions of dollars in bribes.
Rousseff could be suspended from the presidency for up to six months if the lower chamber approves by a two-thirds vote an eventual commission call for impeachment.
It would then be up to the Senate to judge whether she should be stripped of office.