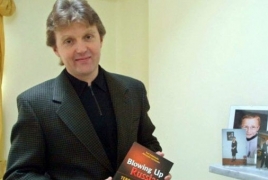 January 21, 2016 - 15:17 AMT
PanARMENIAN.Net - President Vladimir Putin probably approved a plan by Russia's FSB security service to kill former agent Alexander Litvinenko, a British judge said Thursday, January 21, the Associated Press reports.
In a lengthy report, Judge Robert Owen said that he is certain Litvinenko was given tea laced with a fatal dose of polonium-210 at a London hotel in November 2006.
He said there is a "strong probability" that the FSB directed the killing, and the operation was "probably approved" by Putin.
Russia's Foreign Ministry says Moscow does not consider the conclusions of a British inquiry into the 2006 poisoning death of a former Russian spy to be impartial because it claims the result had been predetermined.
Spokeswoman Maria Zhakarova says in a statement Thursday that "we regret that a purely criminal case has been politicized and has darkened the general atmosphere of bilateral relations."
Zhakarova adds "clearly the decision to suspend the coroner's inquest and begin 'public hearings' was politically motivated."
Litvinenko, a former FSB agent, fled to Britain in 2000 and became a vocal critic of Russia's security service and of Putin, whom he accused of links to organized crime.
Owen said Litvinenko "was regarded as having betrayed the FSB" with his actions, and that "there were powerful motives for organizations and individuals within the Russian state to take action against Mr. Litvinenko, including killing him."
Marina Litvinenko said outside the High Court she was "very pleased that the words my husband spoke on his deathbed when he accused Putin have been proved by an English court."
Moscow has always strongly denied involvement in Litvinenko's death, and Russia refuses to extradite the two main suspects, Andrei Lugovoi and Dmitry Kovtun.
Lugovoi says, however, charges he poisoned Litvinenko "absurd."
In his 326-page report, Owen said that based on the evidence he had seen, the operation to kill Litvinenko was "probably" approved by then-FSB head Nikolai Petrushov and by Putin.