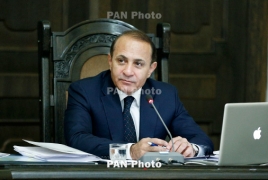 February 4, 2016 - 13:38 AMT
PanARMENIAN.Net - Tariffs for energy carriers must be reasonable and beneficial for both the economy and the population, Armenia's Prime Minister said on Thursday, February 4, according to Panorama.am.
"Energy prices should not hinder competitiveness of products by Armenian business entities," Hovik Abrahamyan noted. "We are determined to make Gazprom Armenia stable and reasonably profitable."
"The recent decline in gas consumption volumes indicates that the company can increase its revenues with lower prices. I believe, Gazprom Armenia should suggest this business logic to its parent company and the public for both Gazprom and Russia to realize the mutually beneficial nature of our proposal," the Prime Minister said.
Geopolitical developments show gas price reduction to be not only necessary but possible as well, he said.