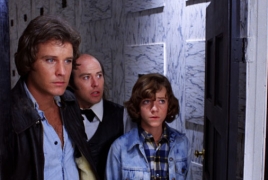 February 10, 2016 - 18:02 AMT
PanARMENIAN.Net - "Phantasm", the classic 1979 horror movie by U.S. cult director Don Coscarelli, has been freshly restored largely thanks to J.J. Abrams, a longtime fan. Pic is being sold as "Phantasm: Remastered" at Berlin's EFM mart, Variety reports.
Abrams reportedly gave Gwendoline Christie's character in "Star Wars: The Force Awakens" the name of Captain Phasma as a tribute to the pic. "Phantasm" stars recently deceased character actor Angus Scrimm, who plays the Tall Man, who kills victims with flying spheres.
"When J.J. Abrams came to me with the unexpected and insanely generous offer of using the services of his Bad Robot Productions company to assist with a meticulous 4K restoration of 'Phantasm,' scanned from the original 35mm camera negative, it was literally a dream come true," enthused Coscarelli in a statement.
"J.J. has been a fan of the film from way back and wanted to see 'Phantasm' presented to modern audiences in as perfect a condition as technologically possible."
Coscarelli, whose more recent titles include "Bubba Ho-tep" and "John Dies at the End," is licensing rights at EFM to the entire five-film "Phantasm" series, including the recently completed "Phantasm Ravager," through his Starway International shingle.