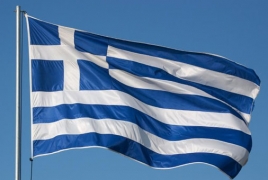 February 10, 2016 - 18:01 AMT
PanARMENIAN.Net - Greece's central bank chief called on Wednesday, Feb 10, for a prompt conclusion to the country's first bailout review, or put at risk a projected economic recovery for the second half of 2016, the Wall Street Journal reports.
"The projection for an economic recovery in the second half of the year is at the moment still subject to risks," Bank of Greece's Governor Yannis Stournaras told lawmakers during a parliamentary committee meeting.
He said that 2016 can be the "beginning of a new path" for the country's economy. "But in order for that to happen, the review needs to be completed, which has already been delayed," Stournaras said.
"The mistakes of the past that led to a dead-end must be avoided. Every time there is a failure to conclude the review, sentiment gets worse," he added, according to the Journal.
Greece's government is currently locked in negotiations with the country's international creditors to complete the first review of the country's third bailout, worth up to €86 billion ($93 billion).
The government is eager for a swift conclusion in order to start negotiations with lenders over the country's debt relief.
The central bank's governor said that Greece should follow the example of other countries which have entered bailout programs after Greece and have already completed it, such as neighboring Cyprus or Ireland.
Stournaras also warned about risks ahead for the Greece's economy that stem from the refugee crisis.
The European Commission, the bloc's executive, said that Greece isn't properly fingerprinting incoming migrants and has begun proceedings to potentially suspend Greece from the EU's open-border Schengen zone.
"Possible restrictions on the movement of people and products cannot be excluded," Stournaras said. "If this happens, it will have major impacts on the country's economy."
Greece is the main gateway to Europe for hundreds of thousands of refugees from Syria and other war-torn countries, as well as large numbers of other migrants from Asia and Africa, who set off from Turkey.
About 857,000 refugees and other migrants entered the EU via Greece in 2015, risking a dangerous sea crossing that has led to almost daily drownings. Another 68,000 people have landed in Greece so far in 2016.