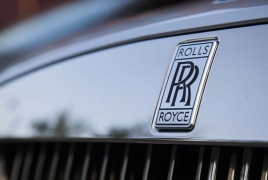 February 12, 2016 - 12:34 AMT
PanARMENIAN.Net - Rolls-Royce has cut its dividend payment to shareholders for the first time in almost 25 years and warned of further job cuts to come, the Guardian reports.
The final dividend payment to shareholders has been slashed by 50%, to 7.1p a share. Analysts expected a 30% reduction.
The dividend cut will hit pension funds, who are among the biggest shareholders in the FTSE 100 company. It is the first dividend reduction since 1992, when the UK was mired in a long-running recession.
The engineering group has issued five profit warnings in less than two years and there were fears that the chief executive, Warren East, might be forced to issue a sixth warning on Friday. However, he said the outlook for the group remained unchanged.
Profits for 2015 fell by 12%, to £1.4bn from £1.6bn. But relief that the group has not warned on profits again saw its shares jump 13%, to 602p, leading the FTSE 100 risers.
The troubled engineering group has been restructuring its operations and slashing costs, including a 20% reduction in the top two layers of senior management, with further cuts planned.
Rolls said the trading outlook for 2016 was unchanged, and flagged another "challenging year".
However, the Guardian says, the company is confident of increasing its share of the civil aerospace market and highlighted 4% growth in its order book, after it rolled out new aircraft engines, such as the Trent XWB, 1000 and 7000.
The company makes engines for the Airbus A380 superjumbo, the Eurofighter Typhoon fighter jet, and the Boeing 787 Dreamliner. It also makes parts for submarines and ships. It has been hit by cuts to defense spending, falling demand for corporate jets and plunging oil prices, which mean energy customers are investing less.
East said: "In the context of challenging trading conditions our overall performance for the year was in line with the expectations we set out in July 2015. It was a year of considerable change for Rolls-Royce: in our management, in some market conditions and in our near-term outlook. Our outlook for 2016 is unchanged; despite steady market conditions for most of our businesses it will be a challenging year as we start to transition products and sustain investment in civil aerospace and tackle weak offshore markets in marine."