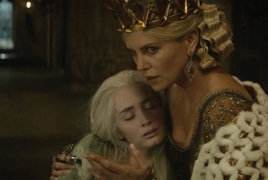 February 12, 2016 - 12:40 AMT
PanARMENIAN.Net - Emily Blunt is the Ice Queen, and she shows off her dangerous powers in the new trailer for "The Huntsman: Winter's War", TheWrap reports.
"If it's the Snow White tale you are looking for, discover the story that came before," says the voiceover at the beginning of the trailer.
The film follows the war between Evil Queen Ravenna, played by Charlize Theron, and her little sister, the Ice Queen (Blunt). In the trailer, we see her raising an army of child soldiers to fight for her after it becomes clear that she can't have children of her own.
"You will train, you will become my Huntsmen," she says.
"The Huntsman: Winter's War" also stars Chris Hemsworth, Jessica Chastain and Sam Claflin. It is directed by Cedric Nicolas-Troyan, who received an Academy Award nomination for his visual effects work on 2012's "Snow White and the Huntsman."
The sequel expands the universe established in the first film to reveal how the fates of two characters, the Huntsman Eric (Hemsworth) and Ravenna (Theron), intersected before they met Snow White (Kristen Stewart). Theron will return, though Stewart likely will not. Nick Frost, who played a dwarf in the first film, is also expected to reprise his role.
The film is slated for an April 22 release.