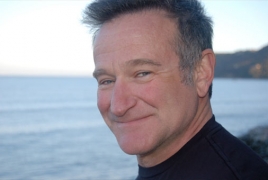 February 12, 2016 - 13:03 AMT
PanARMENIAN.Net - Robin Williams was undoubtedly one of the greatest actors of all time. Lost footage from his 1993 movie "Mrs. Doubtfire" recently made its way out online and it has prompted fresh tributes to the late actor, AceShowbiz reports.
One of the deleted scenes showed Williams' Daniel Hillard arguing with his ex-wife, played by Sally Fields, after he arrived late to their daughter's spelling bee competition. Their argument distracted their daughter, who then misspelled a word.
Williams' character then apologized to his daughter. When she asked why he couldn't pretend to be happy with his wife, like when he's playing the role of Mrs. Doubtfire, he said, "We'd be acting. You can't act 24 hours a day. I'm not that good an actor ... Acting, it's nice, but it's a job."
"It's your job to be our father," his daughter said. And his reply will likely make everyone cry as he said, "No, it's not a job. It's a joy being your father. I don't have to play the part of your father, I am your father. I may act like a fool, but I am your father."
In another heartbreaking scene, their three children saw their parents in a screaming match, which ended with the kids telling them they hated them both and walking away.