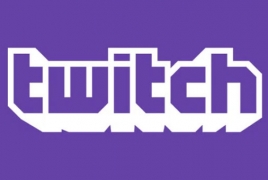 February 12, 2016 - 18:21 AMT
PanARMENIAN.Net - Twitch revealed its 2015 retrospective Thursday, February 11, and the game livestreaming company highlighted its enormous scale and growth as well as its passionate community, VentureBeat reports.
The company revealed that it has 550,000 people tuned in on average at any one time — and those people watched 241 billion minutes of content in total. The livestreaming site also pointed out that its audience is highly engaged even when you compare Twitch to YouTube, the other primary way that most gaming fans get online videos. On average, gamers spend 421.6 minutes per month on Twitch versus 291 minutes per month on YouTube. For Twitch, this is evidence that it has the attention of young people between the ages of 13 and 34, which makes it a crucial partner for marketers trying to reach that key demographic. That is pushing the size of the esports market — the primary driver responsible for the growth of livestreaming — to $194 million in 2015. And that sector is on pace to reach $465 million by 2017, according to Newzoo. But while Twitch is expanding thanks to competitive gaming, it is also seeing major contributions from its mobile efforts as well.
Other numbers from Twitch reveal that the video site had a 2.01 million peak concurrent viewers thanks to a confluence of esports events in August. And it had 35,610 people all broadcasting at the same time at one point in November.
The company also shared its 10 most viewed games of 2015. As you might expect, esports hits like League of Legends and Counter-Strike: Global Offensive took the top two spots and other esports hits make up three of the remaining eight. Destiny is the only game that's not available on PC in the top 10.
Finally, Twitch highlighted the importance of its community tools. It pointed out that people send 17,446 chat messages on Twitch per minute on average. And most of those chats include familiar emotes like Kappa.