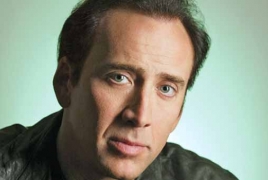 February 12, 2016 - 18:26 AMT
PanARMENIAN.Net - Berlin buyers have jumped on Dog Eat Dog, a crime thriller from Taxi Driver scribe Paul Schrader starring Nicolas Cage and Willem Dafoe, The Hollywood Reporter revealed.
Described as a gritty crime thriller about a kidnapping that goes horribly wrong, Dog Eat Dog was adapted from the Eddie Bunker novel of the same name by Schrader and Matt Wilder. Louisa Krause, Reynaldo Gallegos and Omar J. Dorsey also star.
Arclight has closed deals on Dog Eat Dog with Metropolitan for France, KSM for Germany, Inopia for Spain and Signature for U.K.. The film also sold across Eastern Europe, the Middle East and Latin America.
The film was produced by Mark Earl Burman of Pure Dopamine.