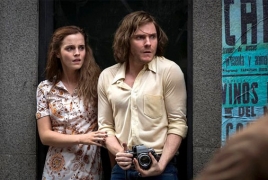 February 18, 2016 - 16:15 AMT
PanARMENIAN.Net - A new trailer for "Colonia" has been released via Yahoo! Movies, showing Emma Watson in a drama that depicts romance amid the political tumult of early 1970s Chile, AceShowbiz said.
The British actress, who is widely known as Hermione Granger on the "Harry Potter" movie series, plays Lufthansa flight attendant Lena who tries to find her missing boyfriend Daniel, portrayed by Daniel Bruhl.
Daniel is abducted by General Augusto Pinochet's secret police and Lena tracks him to a sealed off area in the South of the country, called Colonia Dignidad. The Colonia presents itself as a charitable mission run by lay preacher Paul Schafer (Michael Nyqvist) but, in fact, is a place nobody ever escaped from. Lena decides to join the cult in order to find Daniel.
Schafer warns Lena, "Once you join us, you must remain." The trailer offers glimpses of Daniel being tortured and teases the couple's attempt to escape.
Inspired by true events, "Colonia" is directed by Academy Award-winning director Florian Gallenberger. It will open in select theaters in the U.S. on April 15.