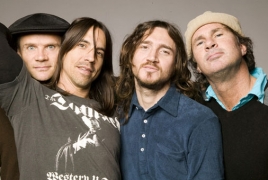 February 24, 2016 - 17:28 AMT
PanARMENIAN.Net - Red Hot Chilli Peppers bassist Flea has said that the band are "heading into a new era" as they finish work on their new album, NME said.
As previously reported, the U.S. band have teamed up with producer Brian Burton, aka Danger Mouse, for the new album and have a series of tour dates and festival appearances booked for the summer. Among those dates is a headline slot at Reading and Leeds Festival 2016.
With frontman Anthony Kiedis recently stating that they were "in the home stretch" of finishing their new album, Flea has now spoken to Q and revealed further details.
"We're near the end of it," he says. "Danger Mouse is producing this time, instead of Rick Rubin. We're heading into a new era and we're really excited."
Asked how the album is sounding, he adds: "It's new and different but without sacrificing the good bits of us. There are some songs we already had, and some new ones too. I can't wait to play it live."
Meanwhile, Flea also opened up about his love of David Bowie. The bassist got a Bowie tattoo on his arm shortly after the musical icon passed away earlier this year. "About a month before Bowie died, I bought his vinyl box set and was working through it," Flea says. "Then, the night before he died, I was listening to Blackstar on headphones.
"He was very much on my mind when I woke up the next morning. Like many people, I connected with him in such a personal way. He never wrote about his personal life, which made his art so pure, but you felt like you knew him almost better than anyone else."
Flea's comments on new music from the band follow similar statement from Kiedis last year when he said the new Red Hot Chili Peppers songs "are as good as any we've ever written".