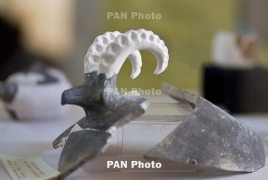 March 7, 2016 - 16:46 AMT
PanARMENIAN.Net - Ancient Origins unveiled an article Sunday, March 6, on the trade, metallurgy, and science of weapon making in ancient Armenia. According to the feature, Armenia's natural resources, which were exported to the neighboring countries, contributed significantly to the development of many economies.
The article reads:
Since ancient times, demand for metals has been a big part of commercial exchange between countries separated by great distance. The Armenian Highland has played a significant role in ancient times in metal casting and processing.
In the second to first millennium BC, the exchange of metals was characterized by very specific features: Iran was exporting lazurite; Armenia, copper, tin, gold, silver, iron; Middle Asia, turquoise; Sinai, copper and onyx; and Egypt was known for the export of lead, silver, and glass.
Since the fifth to fourth millennium BC, the Armenian Plateau territory has processed and exported almost all types of minerals. Among them are: copper, tin, gold, silver, iron, lead, zinc, magnesium, antimony, arsenic, quartz, salt, and more. This is evidenced by findings from different corners of the region. Those findings are also evidence that our ancestors knew how to use minerals and how establish trade relations, including the exchange of valuable minerals.
The earliest evidence of use of metals in Armenian Highland can be found in ancient records of Hittites (second millennium BC).
Tin was the rarest metal in ancient world. In ancient Armenia tin was discovered in several places, such as Aghdznik, Syunik.
Having rich minerals, Armenia played an important role in ancient world in relation to processing and exporting metals. Initially, Armenia exported tin, copper, gold, and large amounts of iron into Egypt, India, Greece and Scythia.
According to ancient Greek writers Homer, Hesiod, Euripides and others, "copper, silver and iron were first invented in Armenian Highland and then exported to other countries."
A number of world-famous scientists emphasized that Armenia constantly supplied metals to Assyria and Babylonia, Egypt, India and Media. The necessary prerequisite for the development of ancient civilizations was a supply from a country with necessary minerals or metal products.
The Assyro-Babylonian ancient protocols regarding Armenian metals are dated to the 13th century BC. During their various invasions in different parts of the Armenian Highland, Assyrian kings have taken dozens of tons of metal.
In the Armenian Highlands from the end of the second millennium BC until the beginning of the first millennium BC, metal casting was widespread.
Talking about metal casting, it is also important to mention the archaeological site of Metsamor, Armenia, where archeologists have found a large mineral and metallurgical complex dated to between the third and first millennium BC. Until recently, Palestinian metal casting furnaces were considered to be the oldest in the Middle East (13th century BC), but the big and small smelters found at Metsamor site are older.
An ancient observatory was also discovered at the Metsamor site, thought to be established between the third and second millennium BC. The general location of observatory coincides with the Zodiacal belt direction, in which the average line of length stretches along the sun's annual path. The tracks of the moon and planets are also lying along the belt.
So during the middle of the second millennium BC, gold items, and the moldings of gold, silver, copper and bronze were exported from Armenia to many other countries. Since the 17th century BC great amounts of iron from Armenia was exported to the Hittites Kingdom, Egypt, Assyria, North Caucasus and Central Russia in the form of weapons and decorations designed for daily use.
During that time period Armenia was supplying almost all neighboring countries with ferrous (or iron) chariots and horses. In addition to this, according to Manetho, who was priest in Egypt, horse domestication first occurred in the Armenian Highland.
So Armenia's natural resources contributed significantly to the development of neighboring countries' economies and military preparedness. Because of this, ancient countries of the Middle East sought to control Armenia, or establish permanent trade relations.
These trade relations with distant countries contributed to the development of the geological and geographical knowledge of Armenians.