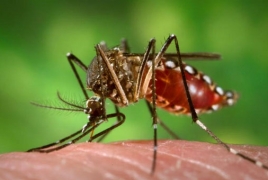 March 11, 2016 - 11:50 AMT
PanARMENIAN.Net - The Zika virus, already linked to brain damage in babies, can also cause a serious brain infection in adult victims, French researchers warned Thursday, March 10, according to AFP.
The Zika virus was found in the spinal fluid of an 81-year-old man who was admitted in January to a hospital near Paris shortly after returning from a month-long cruise.
The man -- semi-comatose, with a high fever and partial paralysis -- was diagnosed with meningoencephalitis, an inflammation of the brain and its membrane, the team wrote in New England Journal of Medicine.
"It is the first case of its kind to be reported, to our knowledge," Guillaume Carteaux, co-author of the paper and specialist at the hospital which treated him, told AFP.
The mere presence of the virus does not prove it is what caused the disease.
But Carteaux said that "other infectious causes, either viral or bacterial, have been ruled out" in this case.
The patient, who was reported to have been in good health during his cruise around New Caledonia, Vanuato, the Solomon Islands and New Zealand, has since partially recovered.
"Clinicians should be aware that (Zika virus) may be associated with meningoencephalitis," the team wrote.
On Wednesday, a different French team linked the virus sweeping Latin America and the Caribbean to paralysis-causing myelitis, AFP reports.
They reported that a 15-year-old girl diagnosed on the French Caribbean island of Guadeloupe with acute myelitis in January had high levels of Zika in her cerebrospinal fluid, blood and urine.
Myelitis is an inflammation of the spinal cord. It can affect limb movement and cause paralysis by interrupting communication between the spinal cord and the rest of the body.