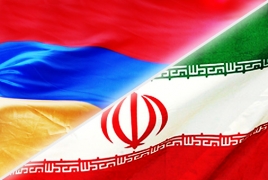 March 15, 2016 - 11:22 AMT
PanARMENIAN.Net - Governor General of Tehran province Hossein Hashemi said on March 12 that two free economic zones in southern Tehran and the hi-tech industrial zone are ready for joint venture investment with Armenia, IRNA news agency reports.
He made the remarks at a meeting with the Armenian Ambassador to Iran Artashes Tumanyan.
Hashemi said that Tehran-Yerevan economic ties have always contributed to the economic development of both countries.
The official noted that Tehran Economic Free Zone has recently launched its activities in the vicinity of Imam Khomeini International Airport.
According to Hashemi, the entrance and exit of the capital are free in Tehran Free Economic Zone and the place is the best corridor linking the West and East.
Underlining the need for promoting tourism relations between Iran and Armenia, Hashemi said that developing ties in cultural fields and holding joint exhibits and fairs can pave the way for further cooperation.
The Armenian envoy, in turn, hailed the current level of Iran-Armenia ties, saying that his country's embassy in Tehran will unveil to the Iranian investors the peculiarities of Armenia's economy.
"Given the importance of Tehran province, we will display our products in Tehran International Exhibition," Tomanian said.
Referring to the two great international developments regarding Iran, he said that nuclear deal and lifting the sanctions and the democratic elections held in Iran on February 26 were important issues, displaying Iranian nation's resolve to the world.
Lifting the sanctions paved the way for expanded trade between the countries in sectors of agriculture, technology and education.