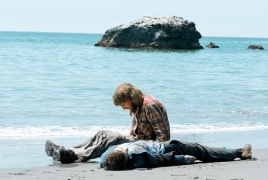 April 5, 2016 - 14:10 AMT
PanARMENIAN.Net - The first trailer for "Swiss Army Man" has been released online for viewing pleasure. Dubbed Daniel Radcliffe's farting corpse movie, the movie follows Paul Dano's Hank who embarks on a series of epic adventures with a corpse, named Manny (Daniel), he found on a desert island.
The trailer opens with Hank, who's stranded on a desert island, trying to commit suicide as he has given up on ever making it home again. Hank then catches sight of a corpse on the beach and imagines he's alive. Manny always farts. In Hank's imagination, the corpse can eventually talk back to him. The corpse then becomes a multi-purpose utility tool which is used by Hank to karate chop logs and even ride as a jet ski back to mainland.
Variety's Chief International Film Critic Peter Debruge wrote in his review, "At times deliriously dynamic, at others patience-grating in the extreme, the constantly inventive film fires off ideas that are as exhilarating as anything American audiences will see all year, only to lag in long swells on either side." Peter described the film as " 'Cast Away' meets 'Weekend at Bernie's' as directed by Michel Gondry."
According to EW's Chris Nashawaty, "the film looks great and it has an undeniably impressive level of imagination and ambition (not to mention some fantasy sequences that tap into the same inventive hand-crafted diorama groove of Michel Gondry). But while everyone in front of and behind is super-committed to their Weekend at Bernie's riff, it's depressingly juvenile."
Written and directed by music video veterans Daniel Scheinert and Daniel Kwan, "Swiss Army Man" made its debut at the Sundance Film Festival earlier this year. A24 will release the comedy-drama flick is set to hit U.S. theaters on June 17.