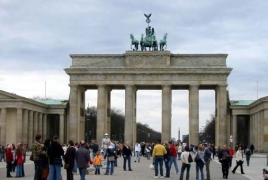 April 13, 2016 - 16:51 AMT
PanARMENIAN.Net - German officials are growing worried about an upsurge in violence between nationalist Turks and militant Kurds on German soil, Reuters says in an article.
Germany is home to about 3 million people of Turkish origin. Roughly one in four are ethnic Kurds who came to Germany to work in the 1960s and 70s, or as refugees fleeing violence in the 1980s and 90s.
Intelligence officials estimate that about 14,000 of these Kurds are active supporters of the Kurdistan Workers Party (PKK), the militant group whose armed struggle against the Turkish state has escalated following the collapse of a 2-1/2 year ceasefire last July.
Clashes between Turks and Kurds in Germany are not new. At the height of the conflict between Ankara and the PKK in the early 1990s, Kurdish militants overran the Turkish consulate in Munich and launched arson attacks against Turkish facilities across Germany. This led Germany to outlaw the PKK in 1993, Reuters says.
But the combination of rising violence in Turkey and Chancellor Angela Merkel's controversial refugee deal with Ankara has raised the risk of a new wave of clashes, government and intelligence officials worry.
"When you have a full blown civil war there, then there is the risk of direct transmission to German cities," said a senior German diplomat on condition of anonymity. "This is the other side of Merkel's refugee deal. It makes it all the more difficult to manage."