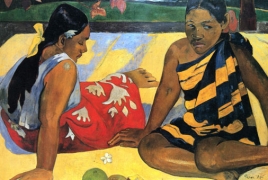 April 18, 2016 - 14:33 AMT
PanARMENIAN.Net - This spring's special exhibition adds new layers to the story of Paul Gauguin (1848–1903), presenting his experimental explorations of 'the primitive', Art Daily reports. Featuring more than seventy works spanning every media employed by the artist, the exhibition offers an overview of Gauguin's wide-ranging life's work while also focusing on particular highlights. The exhibition traces Gauguin's unwavering endeavours to build and express his very own concept of 'the primitive'; a concept that cuts across different cultures and geographical locations.
'The primitive' Gauguin's stubborn pursuit of the primitive in the face of personal and financial difficulties was not fuelled by an interest in ethnographic matters, but sprang from an artistic vision. A vision that took on its own distinctive form across different cultures, ages and religions, making no concessions to established norms for artistic creativity and use of media. The exhibition explores the journey that led towards Gauguin's personal, original artistic idiom. This includes the physical travels that took him to Denmark, Brittany, Arles, Martinique and Polynesia, but also the inner voyage where he constantly, his mind fuelled by countless different impressions and sources, invented and reinvented the primitive in imaginary worlds.
A well-rounded collection The exhibition demonstrates the huge potential inherent in Glyptotekets' collection. Most of the works on view come from the museum's own collection, supplemented by carefully selected loans – some major highlights, others curiosities – from other museums and private collections. With its clear narrative and themed presentations, the exhibition covers Gauguin's work from his early years to his late production. It also documents his immense appetite for working with different media and materials. Here visitors will find paintings, prints, drawing, ceramics, woodcarvings and rarely-seen examples of Gauguin's furniture and jewellery design.
This event is based on the exhibition "Gauguin – Tales from Paradise", which Glyptoteket curated in the autumn of 2015 for MUDEC – Museo delle Culture in Milan.