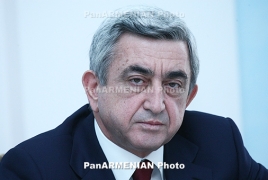 April 24, 2016 - 10:39 AMT
PanARMENIAN.Net - Turkey's genocidal plans proved to have failed, as Armenians were reborn both as a nation and as a state, President Serzh Sargsyan said in his annual message on the day of the commemoration of the Armenian Genocide.
"Our struggle for justice still goes on," the President said.
"Turkey's denialist policy and its hostile stance towards everything Armenian hasn't changed. This is nothing short of a direct continuation of the crime in our time. The Turkish society has partly changed. Today it knows about its own history a little more than it did yesterday, and will know more tomorrow, unless free speech and media is not strangled, unless members of the parliament, public figures and editors are not shot dead. The truth, though slowly, but opens the people's eyes."
"Nowadays, emotions and worries, discussions and analyses related to the hostilities of April 2-5 have not subsided yet," he said.
"Azerbaijan unleashed another war against Artsakh and was thrown back, suffering great losses. The true objective, or rather the true dream of Azerbaijan is the occupation of Artsakh and its cleansing of Armenians, which means its population will be partly purged, partly deported.
Today, on April 24, 2016, I declare to the entire world: No Armenian will be purged or deported in Artsakh. We will not allow another Armenian Genocide. By saying we, I mean the whole Armenian nation, our Armenian consolidation.
Today, as we bow to the memory of our innocent victims, we witness the unprecedented consolidation and resolve of our nation to build a free, peaceful, and modern state, a powerful Fatherland for all Armenians, with descendants of the Genocide victims and those of the survivors returning home."