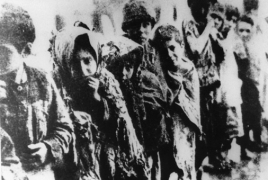 April 24, 2016 - 11:59 AMT
PanARMENIAN.Net - Some 300 people gathered on Saturday, April 23 in St. James Monastery in the Armenian Quarter of Jerusalem and held a ceremony commemorating 101 years to the beginning of the Armenian Genocide, The Jerusalem Post reports.
The ceremony was held after a mass that was led by Armenian Patriarch of Jerusalem Nourhan Manougian, and was attended by the leaders of Armenian community in Jerusalem. The service honored the memory of some 1.5 million Armenian victims whom Ottoman forces killed between 1915 and 1923, mainly in Syria.
Harut Baghamian, one of the organizers of the ceremony, a member of the Homenetmen youth movement and a descendant of Armenian Genocide refugees, told The Jerusalem Post that the Armenian community is disappointed from the way Israel deals with the memory of the Genocide. "It's not that they are denying like some countries, they are just not talking about it," he said.
However, Baghamian sees in the Jewish people a partner of the Armenians. "There were some Israeli politicians that have expressed their feelings about the Genocide in the past, and we appreciate that.
But we expect from the government to honor their values before politics," he said.
On Sunday, members of the Armenian community and social activists will protest in front of the Turkish Consulate in Jerusalem and the Turkish Embassy in Tel Aviv.