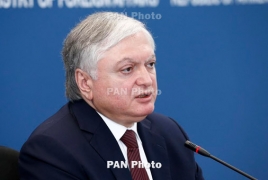 April 24, 2016 - 13:00 AMT
PanARMENIAN.Net - Armenian Foreign Minister Edward Nalbandian denied media speculation suggesting his Russian counterpart Sergei Lavrov offered a plan implying "painful concessions" related to the Karabakh settlement.
Nalbandian said no mutual concessions had been discussed with Lavrov, noting that only the proposals of the OSCE Minsk Group Co-chairs, voiced at the level of presidents and known to all have been mentioned. According to him, Armenia was ready for talks, while Azerbaijan ignored them, ARKA said.
"If Baku thought it could benefit from these proposals, the negotiation would not have reached an impasse and Azerbaijan would not have unleashed the latest hostilities in Karabakh. That was how Baku tried to solve the problem, yet was defeated," Nalbandian said.
He said Azerbaijan will be forced to return to the negotiating table, there being no alternative to the negotiation process.
Nalbandian stressed that Azerbaijan's latest large-scale aggression has caused serious damage to the peace talks, adding that the Minsk Group Co-chairs and the international community will need to make strong efforts to repair the damage.
"It will be very difficult, as the hostilities resulted in dozens of victims The international community is trying to bring Azerbaijan back to the constructive track, to continue the negotiations, which have no alternative," he said.