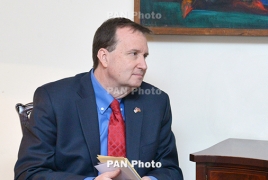 April 24, 2016 - 13:13 AMT
PanARMENIAN.Net - The Unites States' ambassador to Armenia visited Tsitsernakaberd the Armenian Genocide memorial to honor the memory of the victims of the mass atrocities.
"It's an honor to represent the U.S. and the American nation while paying tribute to the victims of those events, which, as President Obama said, constituted one of the gravest tragedies of the 20th century," Richard M. Mills told reporters.
"By remembering them, we seek the prevention of such events."
In response to a question on Obama's failure to keep his promise on the Armenian Genocide recognition, Mills said he thinks the president's statement was "powerful."
"The President stays true to the comprehensive and fair recognition of events," Mills added.
Asked about the possibility of Obama's unwillingness to harm relations with Turkey, the ambassador said: "The U.S. President said his activity is aimed at reaching truth and reconciliation between the two societies. By visiting the memorial and paying tribute to the memory of victims, we reaffirm our commitment."
Read also:Obama fails to keep Genocide recognition promise for 8th year