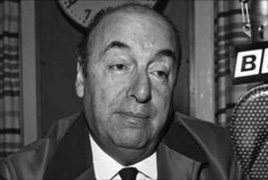 April 26, 2016 - 17:10 AMT
PanARMENIAN.Net - Chile paid homage to Nobel Prize-winning poet Pablo Neruda as it prepared to rebury him Tuesday, April 26 after examining his body to determine whether he was assassinated by the country's former dictatorship, AFP reports.
A court in February ordered that Neruda's remains be returned to his tomb after they were examined by specialists who are expected to release their findings in May.
His coffin, covered with a red, white and blue Chilean flag, lay in state in the Congress in Santiago on Monday after being transferred from the forensic medical service where it was examined.
It was due to be returned on Tuesday to the Isla Negra, a coastal area in central Chile where Neruda was previously buried according to his will, facing the Pacific Ocean.
Neruda died in 1973, just days after General Augusto Pinochet seized power in a coup.
Doubts have surrounded the cause of his death since his former driver claimed the poet was given an injection in his chest at the Santiago clinic where he was being treated for prostate cancer.
"I feel proud that they listened to me once and for all," the driver, Manuel Araya, told AFP.
Neruda had been planning to leave for Mexico to lead the opposition to Pinochet's regime, but died hours after the injection. He was 69.
The cause of death was given as advanced prostate cancer, but in 2013 officials exhumed his body to determine whether he had been poisoned.
The lawyer who brought the case to have the remains examined, Eduardo Contreras, told AFP the results of the analysis were expected in May.
He warned that since so much time had passed since Neruda's death there was a risk the tests would fail to be conclusive.
"Even though all the evidence points to a crime, it will be technically very difficult to prove," he said.
But "anyone who sees the thousands of volumes of evidence" will conclude that Neruda was assassinated, he added.
Pinochet, who ousted Socialist president Salvador Allende in a coup, installed a regime that killed some 3,200 opponents over 17 years.