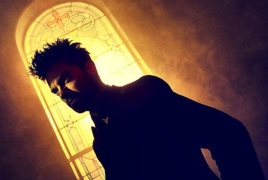 May 18, 2016 - 13:53 AMT
PanARMENIAN.Net - Hyping up the upcoming premiere of "Preacher", AMC has released the first four minutes of its new series. It opens with a shot of an object in outer space that is coming to earth. It then shows a preacher speaking to the congregation in Africa, AceShowbiz said.
Something unseen is breaking through the door with force and attacking the preacher, who then falls on the floor. He wakes up, but appears to have been possessed. He scares people before exploding, making people frantically run and leave the place.
The scene then switches to show a glimpse of Jesse Custer who is abused by his father as a child. In present day, Dominic Cooper's title character is a damaged man wrought with guilt over a very gruesome ordeal from his childhood involving his father.
Showrunner Sam Catlin previously told Zap2it how Jesse's father affected him. "[Jesse's] sincerely worried that he's going to hell. Not like figurative hell, but actual hell," he said. "In his mind - he does the math - he feels if he could be a good preacher like his father and sort of be the spiritual sheriff for this feally f**ked up sin-filled town ... 'If I can save these souls, maybe I can save my own soul.' So, that's sort of what he's wrestling with."
Ruth Negga joins the cast as Tulip O'Hare, Jesse's career criminal ex-girlfriend, Joseph Gilgun stars as Irish vampire Cassidy, Lucy Griffiths plays Emily Woodrow, a church organist and Jesse's loyal right hand, while Ian Colletti stars as Eugene Root a.k.a. Arseface.
From executive producers Seth Rogen and Evan Goldberg, the supernatural thriller will debut Sunday, May 22 at 10 P.M. ET/PT on AMC.