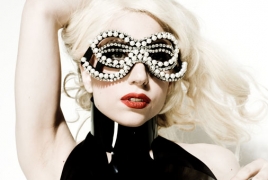 June 8, 2016 - 14:26 AMT
PanARMENIAN.Net - Lady Gaga's latest album could be pushed back until next year, Elton John has let slip, NME said.
The British star revealed that Gaga has been working on the follow-up to 2013's 'Art Pop' during his Beats 1 Rocket Hour show but suggested that it may not see release till 2017.
"I've heard two or three songs from her new record, which she's making with Mark Ronson, and it's absolutely brilliant," Elton John said. "So you're gonna be really happy when you hear that later in the year or early next year."
John also revealed that he has been writing songs together with Gaga but did not make it clear whether their collaboration would appear on the forthcoming record.
In 2014, Gaga featured on an album of standards together with Tony Bennett. The jazz singer recently told his concert crowd that he is planning to release a second jazz album with Gaga this summer.
Last month, reports claimed that Gaga is to embark on an acting career by taking on the role of Cilla Black in a new film about the life of soul singer Dionne Warwick. However, representatives for the singer denied that Gaga is attached to project despite confirmation from Warwick herself.
Before the denial, a spokesman for Cilla Black's estate had commented: "We think Lady Gaga is fabulous! She's a great actress and we really look forward to seeing her portrayal."