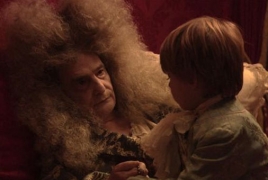 June 11, 2016 - 17:23 AMT
PanARMENIAN.Net - Cinema Guild has acquired all U.S. distribution rights to Albert Serra's The Death of Louis XIV, starring French New Wave legend Jean-Pierre Léaud, Deadline reports.
The film premiered as an Official Selection at Cannes, where Léaud was awarded an Honorary Palme d'Or, 57 years after his first appearance at the fest at age 14 in Francois Truffaut's 400 Blows. Cinema Guild will release Death of Louis XIV theatrically in early 2017.
Set in Versailles in August 1715, the film centers on Louis XIV (Léaud), who feels a pain in his leg after going for a walk. The next days, the Sun King fulfills his duties and obligations but has trouble sleeping. A serious fever erupts, which marks the start of the slow agony of the greatest King of France. Surrounded by doctors and family, he struggles to run the country from his bed. "Following Don Quixote, the Three Kings, Dracula and Casanova, Albert Serra transmutes another great icon," said Cinema Guild Head of Distribution Blandine Mercier-McGovern, who negotiated the deal with Julien Rejl of Capricci Films.