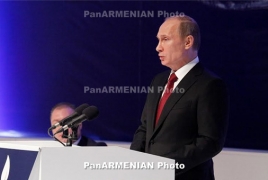 June 17, 2016 - 16:39 AMT
PanARMENIAN.Net - Russian President Vladimir Putin called on the European Union to restore cooperation with Russia, RT reports.
Speaking at the St. Petersburg International Economic Forum on Friday, June 17, Putin said Moscow was ready to meet halfway, but stressed that the EU should also be willing to compromise.
"We do not hold a grudge and are ready to meet our European partners halfway," the Russian President told the forum.
"But it certainly cannot be a one-way game."
"Our recent meetings with representatives of the German and French business circles have proved that the European business is willing and is ready to cooperate with our country. Politicians need to meet the businesspeople halfway, and show wisdom, foresight and flexibility. We need to regain trust in Russian-European relations and to restore the level of interaction," Putin said.
European Commission president Jean-Claude Juncker said at the St. Petersburg International Economic Forum on Thursday that Russia and the EU should continue their dialogue, despite the sanctions.
"We can have no illusions about the problems weighing on our relationship today. They exist," Juncker said, adding that it would be "pointless, even dangerous, to ignore them."
"We must tackle them urgently," he said, adding that the dialogue should begin with discussing the Minsk agreements on solving the Ukraine crisis, and ensuring the norms and rules of international law.
Russia has never courted confrontation with the West, and has always been "in favor of an equal and mutually beneficial dialogue," Russian Foreign Minister Sergey Lavrov said in response.