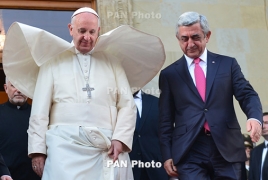 June 27, 2016 - 18:18 AMT
PanARMENIAN.Net - Armenia expects more countries to recognize the 1915 massacre of Armenians in the Ottoman Empire a century ago as a genocide after remarks by Pope Francis and the stance taken by Germany's parliament, President Serzh Sargsyan said, according to Reuters.
During a visit to Armenia on Friday, June 24, the pope departed from his prepared text to use the term genocide, angering Turks.
"The principled position of the pope and the views expressed by the Bundestag will pave the way for new recognitions by other nations," the President told Reuters in an interview.
"Germany is a very important and significant actor on the international stage and this (decision) will serve as a good example for other nations to follow and to learn from it," he said.
Sargsyan criticized Turkey's position over its aspiration to join the European Union, saying Ankara was trying to use a policy of dictatorship to bring pressure to bear on the bloc.
"I don't think that Turkey is ... an actor that can impose its views, or exercise pressure, on the European Union," he said.
"I don't honestly see any prospects that would pave the way for Turkey joining the EU."