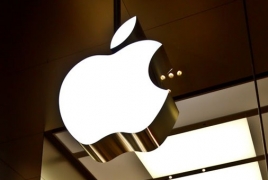 June 29, 2016 - 15:11 AMT
PanARMENIAN.Net - A Florida man is suing Apple for $10 billion and demanding a 0.5 per cent cut of future sales – because the iPhone, iPod and iPad allegedly ripped off his ideas, The Register says.
In 1992, Thomas S. Ross filed a U.S. patent for a rectangular device with rounded corners and a backlit screen that could play music, store books, or have mobile telecommunications hardware added. He submitted three drawings of the "Electronic Reading Device" (ERD) and insists Apple copied him.
"Apple introduced the iPhone, iPad and iPod line of mobile devices, all of which are the very essence of Ross's ERD," his patent-infringement lawsuit filing [PDF] reads. "Instead of creating its own ideas, Apple chose to adopt a culture of dumpster diving as an R&D strategy."
Although Ross filed his patent application, he neglected to pay the fees for the submission, and it was declared abandoned in April 1995 for non-payment. Ross went to court to try and get this decision changed – arguing that such fees were unconstitutional – but had no luck, The Register says.
Nevertheless, he's arguing that the filing itself gives him the right to sue. In paperwork submitted to southern Florida's district court, Ross asked for up to $10bn, a cut of future sales, and for Apple to withdraw all its iThing-related patents.
What's odd about this is that Apple introduced the Newton in 1993, which looks remarkably like the ERD design. Since the patent was already pending, Ross could have filed suit back then, but apparently didn't want to.